Pictures, diagrams, drawings, and other depictions of aircraft will be displayed here. See Glider information below and separate page for Gliders.
10th AF C-47s lined up on strip
SPECIFICATIONS

Span:

95 ft. 0 in.

Length:

64 ft. 5 in.

Height:

16 ft. 11 in.

Weight:

33,000 lbs. loaded

Armament:

None

Engines:

Two Pratt & Whitney R-1830s of 1,200 hp. ea.

Crew:

Six

Cost:

$138,000

Serial Number:

43-49507

C/N:

15313/26768

Displayed As:

43-15174

PERFORMANCE
Maximum speed: 232 mph.
Cruising speed: 175 mph.
Range: 1,513 miles
Service Ceiling: 24,450 ft.
B-24 in flight
Versions (Type):
B-24 (Bomber) "Liberator" [Army Air Corps] Model A-M (Split Tail) Model N (Single Tail)

C-87 (Cargo) "Liberator Express" [Army Air Corps] (Split Tail)

F-7 (Photo Reconnaissance) "Liberator" [Army Air Corps] (Split Tail)

LB-30 (Bomber) "Liberator" [British Forces] (Split Tail)

PB4Y-1 (Bomber) "Liberator" [U.S. Navy] (Split Tail)

PB4Y-2 (Bomber) "Privateer" [U.S. Navy] (Single Tail)
Manufacturers:
CF - Consolidated/Fortworth
CO - Consolidated/San Diego
DT - Douglas/Tulsa
FO - Ford/Willow Run
NT - North American/Dallas
Crew:
Wing Span:
Wing Area:
Length:
Height:
Weight:
Empty ---- 27,500 lbs.
Gross ----- 38,360 lbs.
Maximum - 46,400 lbs.
Armament:
Machine Guns - Ten .50-cal.
Bombs --------- 8,000 lbs.
Speed:
Cruising --- 175 mph.
Maximum - 303 mph.
Landing - - 90 mph.
Range:
Empty ------------ 4,700 miles
2,500 bomb load - 3,000 miles
Service ceiling:
Cost (Originally):
Power Plant:
Four Pratt & Whitney R-1830-33 (S3C4-G) Twin Wasp 14 cyl. air-cooled reciprocating radials
B-24 side view
Glider Aircraft and Pilots
(Operation Thursday) In March, 1944 gliders carved another niche for themselves in Burma. The allies devised a plan to concentrate a force behind Japanese lines to cut enemy rail and river communications. There were no handy roads and the landing areas were unprepared. Gliders were picked to fly certain troops, airborne engineers and equipment into the selected areas by night. Their job - seize and prepare landing strips so that additional troops and equipment could be flown in by transport planes. Although only a limited number of gliders were used, the operations were successful and troops and cargo were poured into the rear of the enemy positions. Most of these missions were accomplished at night. The Japanese were completely surprised and the overall operation successful.

"We were too high but no choice, so a violent slip got us into the edge of Broadway at about 120 MPH, not much control here. I had been told to turn left and to be used as a hospital ship. We hit a log buried in the grass and tore off the left gear and swerved right into position to the left side of the field (sheer luck!)."


"We buried some men the next day, one was a good friend."

Glider Pulled Into the Air from a Standing Start
A glider snatch was accomplished by a C-47 tow plane flying just above ground level with a hook trailing behind from a cable that played out from a revolving drum in its fuselage. The hook snagged a glider towrope suspended between two vertical poles sweeping it airborne behind the tow plane from a dead standstill to 120 mph in a matter of 7 seconds.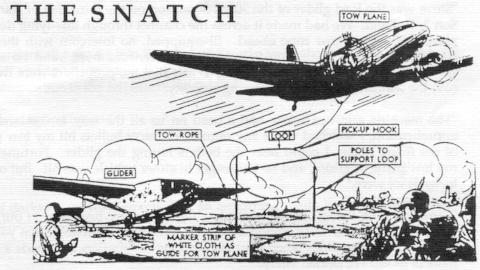 Used effectively in Burma! After unloading equipment loaded up with stretcher and walking wounded and then snatched out. Returned to Hospital in about 2 hours as opposed to two months by ambulance.
The B-25 bomber was heavily used in Burma as well.
B-25 dropping bombs over Burma
Sweet Sue - a B-25A was used in Operation Thursday
Questions - Contact webmaster wdutton@miac47burmawwii.org